About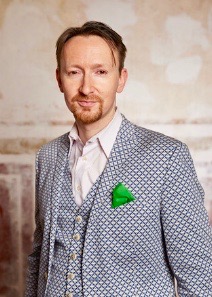 © Tim Fulda
Born 1972 in Eberswalde (GER), Jansen Folkers lives and works as a freelance violin player for classical as well as contemporary music in Hamburg.
Beginning classical violin training in East Germany at the age of 5 and winning his first competition at 12, Jansen was chosen to play with the Frankfurt Symphony Orchestra at age 15 for the "Concert of the best" as a winner of the national violin competition.
One year before receiving his artist diploma at the renowned "Hanns Eisler" music highschool Berlin, JF received a scholarship from the German Symphony Orchestra.
Later he played frequently with the Berlin Chamber Orchestra, the Dresden Symphony Orchestra as well as the Hamburg Sinfonietta and was member of the string group "Nathan Quartett", playing concerts and holding workshops in Germany and Switzerland. Seeking opportunities to increase his range of expression, he played Tango Argentino with Coco Nelegatti, took jazz studies with Gary Burton at the Berklee College of Music and Mexican music with "Dos Mundos". With his longtime music partner, guitarist Frank O ́Nell, he performed a crossover chamber music-series in the renowned Konzerthaus Berlin.
Jansen is founding member of the Hamburg based string ensemble "Kaiser Quartett", which was collaborating with canadian pianist and Grammy-winner Chilly Gonzales, performing his 2015 tour of the album "Chambers" in leading classical venues in Europe and North-America. Recently they started working with english singer Jarvis Cocker, a figurehead of the britpop era, for the theatre project "Room 29". In 2017, Gonzales, the "Kaiser Quartett" and DJ Boys Noize introduced their project "Octave minds".
The "Kaiser Quartett" also performs regularely with Grammy-winner Gregory Porter during his concerts in Germany.
In 2019 the "Kaiser Quartett" released their first selftitled solo album "Kaiser Quartett" on belgian label PIAS.
Being a sought after studio-musician JF has recorded music on so far over 100 movie-, TV and CD- productions, including 15 gold and 7 platinum awarded recordings.
Performed for/with: Tenor Rolando Villazon, Grammy-winner Gregory Porter, Jarvis Cocker, Oscar-awarded actor Matt Damon, The Frank Zappa Band, Chilly Gonzales, Richard Clayderman, Lou Bega, The Pet Shop Boys et al.
Orchestras / Chamber music groups: Radio Symphony Orchestra Berlin, German Symphony Orchestra, Dresdner Sinfoniker, Hamburg Soloists, Nathan Quartet et al.
Venues played at: Philharmonie Berlin (D), Concertgebouw Amsterdam, Royal Festival Hall (GB), Massey Hall, Toronto ( CAN), Philharmonie Paris (FRA), l'Auditorium Conciliazione Rom ( I ) , Auditorio Nacional de Musica Madrid (ESP), Festival Internacional de Santander (ESP) et al.
Since 2001 Folkers is one of the principal violinists in the most successful musical production of all times, Disney ́s "The Lion King" in Hamburg / Germany.
JF is playing a violin of the Hamburg based luthier Frank Frobeen.
© 2008 Jansen Folkers